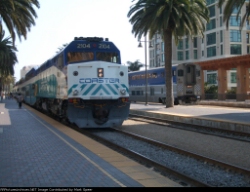 Welcome to the RRPictureArchives.NET contributor site of Mark Speer IV.



Hey everybody, and welcome to my page!

As you might be able to tell, I'm your avid teenage railfan in SC. I tend to visit many, many different places, but most trips revolve around convenience and practicality. You can look forward to a vast collection of railroad pictures on this page, accumulating over the months. If you'd like to see some of my other ventures on video, be sure to check out my channel at www.youtube.com/markconductor775.

May the Irish luck be with you in your railfanning endeavors!

-Mark.



You may browse my collection of pictures via the menu located on the left hand side of the page. I hope you enjoy the collection and thanks for stopping by!
Note: This site is best viewed in Internet Explorer 6.0 or above.
Select one of the links from the menu on the left to begin browsing the collection.